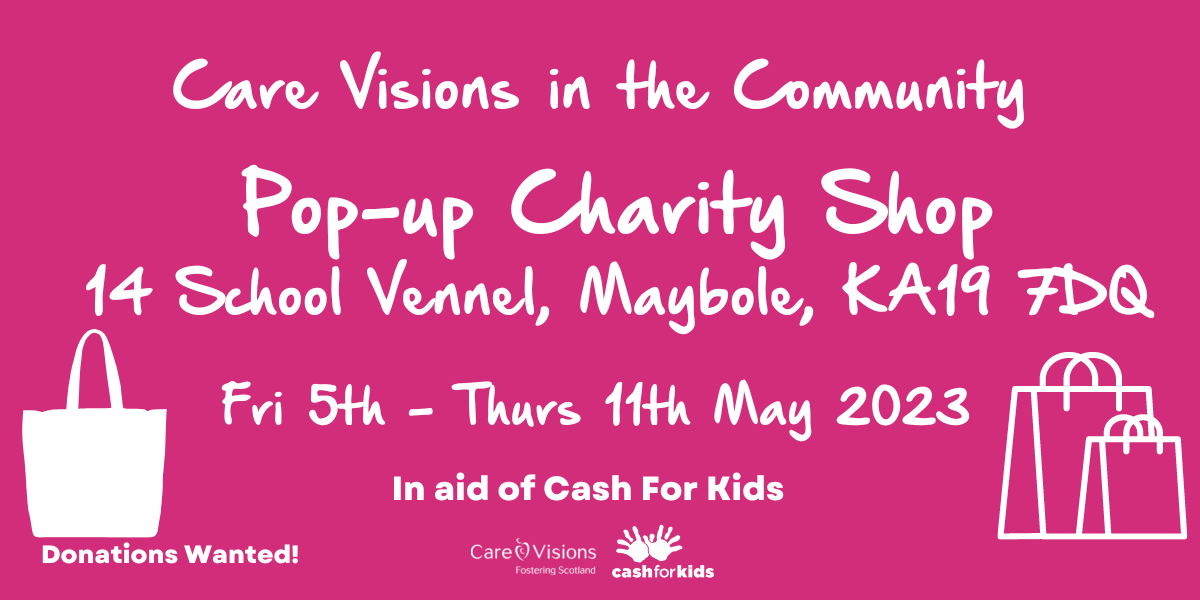 Care Visions Fostering Scotland are delighted to announce that they will be taking over a shop in Maybole's town centre for one week raising money for Cash for Kids.
All during spring the team at Care Visions along with some of their fantastic Foster Carers have been taking donations for the week of fundraising and on Friday the 5th May the pop-up charity shop, close to the High Street, at 14 School Vennel will open its doors.
We would like to welcome anyone from Maybole, South Ayrshire and beyond to the pop-up shop during this week in May for the chance to grab a bargain while donating to a fantastic cause in Cash for Kids.
We would also welcome donations during our time at the shop as we will look to replenish items during the week. These could be clothes, household items, bric-a-brac, toys and anything else of good quality for re-sale. These can all be dropped off at The pop up shop between Fri 5th – Thurs 11th 10am – 3pm.

All money raised during the week of events, from the sale of items, tombola, and other fundraising activities, will go straight to Cash for Kids - whose mission is to improve the lives of disadvantaged children and young people in our communities who are affected by poverty, illness, neglect or have additional needs.
Care Visions Fostering has a rich history in Maybole, working with looked after children and young people though our fantastic Fostering families. The organisation is covering the operating costs, including the rental of the space, meaning all money raised during the week will be donated to Cash For Kids.
Care Visions Fostering is a Not-For-Profit Fostering Service operating in Ayrshire and other areas of Scotland. They work closely with Local Authorities, Birth Families, Fostering Families, Children and Young people to help provide safe supportive environments for children and young people to thrive and reach their full potential.
Mark Nelis, A Supervising Social Worker from Care Visions Fostering said this about the week of events, "When one of our families in Maybole said that we could have a presence in the community to raise some money for charity we jumped at the chance. The communities in South Ayrshire have been so supportive to the looked-after children and young people we work with, along with our Foster Carers, we just know that they will be supportive with this exciting charity event too.  We don't know what we are going to have in store, as it all comes from donations, so there might be some really nice or exciting stuff for you to pick up and do your bit for Cash for Kids at the same time."
Foster Carer - Wilma Howie, who has led on the organisation of the pop-up space in Maybole's town centre had this to say, "We've recently had some great fundraising events in the local community for some important causes. Everyone is always very supportive, so I am sure that this will be the same. Getting to support a charity like Cash for Kids with this event is going to make it extra special and I am sure that will encourage many more to stop by."